Vezi gratuit episodul: The Seven Deadly Sins: 2×2 Episodul: Our Fighting Festival a avut premiera pe data de:

Jan. 20, 2018

. Vezi acum acest episod tv online gratuit!

Distribuie sau scrie parerea ta despre acest episod online!!
The Seven Deadly Sins, vezi online seubtitrat: 2x2
Our Fighting Festival
The Ten Commandments are in the process of recovering their magical powers and fly to the Kingdom of Edinburgh in the east. Meanwhile, Jericho is discovered following Ban and King on the journey to the Fairy King's Forest. In the forest, the fairy people call King a traitor because he left the Fairy King's Forest 700 years ago, his absence allowing the forest to be almost entirely destroyed, while Ban is called the new Fairy King because he planted the last Sacred Tree seed that Elaine entrusted to him. Diane and Elizabeth admit to each other their love for King and Meliodas respectively. Meanwhile Gowther, believing he needs to experience love, alters Guila's memories so she forgets Zeal is her brother and thinks Gowther is her boyfriend, while Zeal, who Gowther considers a barrier between himself and Guila, loses his entire memory. Gowthers manipulation of their memory enrages Diane and she attacks him without hesitation.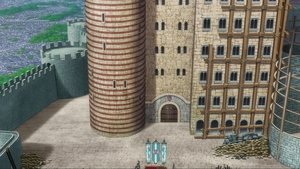 Episod adaugat pe data de:
Jan. 20, 2018