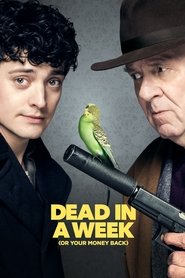 Urmăreste filmul: Dead in a Week: Or Your Money Back (2018), film online subtitrat. Genurile acestui film sunt: Action ,Comedy ,Drama. Poți vedea filmul Dead in a Week: Or Your Money Back (2018), film online subtitrat ONLINE sau îl poți descarca pentru a îl vedea Offline la cea mai bună calitate doar pe site-ul nostru.
Distribuie sau scrie parerea ta despre acest film!!
Rezumat
După ce William, în vârstă de 27 de ani, eșuează la a noua încercare de sinucidere, el decide să apeleze la ajutorul unui asasin în vârstă de 65 de ani, Leslie, care lucrează la o clinică de eutanasiere. După o întâlnire accidentală pe un pod, William își dă seama că ar putea folosi un ajutor profesional. Cu atâtea încercări și zero succese, este evident că un ucigaș cu sânge rece este exact ceea ce are nevoie William. După ce navighează prin broșura lui Leslie "Your Death, Your Way", William stabilește modul în care va muri: "rapid și fără durere". Nu este chiar moartea eroului la care el a visat întotdeauna, dar este tot ceea ce își poate permite. Odată cu semnarea contractului, William așteaptă inevitabilul. Dar, cu moartea asigurată într-o săptămână (sau banii înapoi), William simte pentru prima dată în viața lui cum s-a eliberat de o greutate. Cu toate acestea, un contract este un contract, iar în ceea ce-l privește pe Leslie, William nu va scăpa atât de ușor.
William has failed to kill himself so many times that he outsources his suicide to aging assassin Leslie. But with the contract signed and death assured within a week (or his money back), William suddenly discovers reasons to live… However Leslie is under pressure from his boss to make sure the contract is completed.
Titlul original
Dead in a Week (Or Your Money Back)
Rating-ul IMDb 4.8 363 voturi
Rating-ul TMDb 6.3 12 voturi