Doom Patrol (2019), serial online subtitrat
Sezoane tv și episoade tv
Rezumat
Doom Patrol (Serial TV 2019- ), serial online subtitrat în limba Română
Membrii Doom Patrol au suferit fiecare câte un accidente oribile care le-au dat abilități super-umane – dar le-au lăsat deoparte și deformate. Traumatizate și înfricoșate, echipa a găsit scopul prin The Chief, care ia adus împreună pentru a investiga cele mai ciudate fenomene existente – și pentru a proteja Pământul de ceea ce găsesc.
The Doom Patrol's members each suffered horrible accidents that gave them superhuman abilities — but also left them scarred and disfigured. Traumatized and downtrodden, the team found purpose through The Chief, who brought them together to investigate the weirdest phenomena in existence — and to protect Earth from what they find.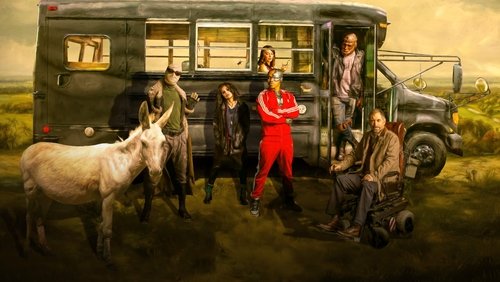 Sezonul 1
2019 | 15 episoade
Dupa evenimentele din Titani, Doom Patrol – alcatuit din Robotman, Negative Man, Elasti-Woman si Crazy Jane si condus de Dr. Niles Caulder / The Chief – primeste o misiune de la Cyborg pe care nu o pot ignora si le va schimba vieți.
Titlul original
Doom Patrol
Rating TMDb 6.2 51 voturi
prima apariție
Feb. 15, 2019
Ultima apariție
Mar. 08, 2019