Dystopia (2019), serial online subtitrat in Româna
Sezoane tv și episoade tv
Creator
Cast
Rezumat
Dystopia (Serial TV 2019-), serial online subtitrat in limba Româna
Planeta este acum un loc răvășit de război. Fertilitatea este afectată și nimeni nu mai poate avea copii. Acest lucru se datorează unui sistem de identitate cu microcip care a fost implantat tuturor supraviețuitorilor. Unul din efectele secundare ale acestui cip este pierderea fertilității, atât în cazul femeilor cât și în cazul bărbaților. Oamenii încă nu au reușit să accepte această situație. Ultima generație este din ce în ce mai bătrână. Ce se va alege de soarta umanității?
It is the year 2037, the world is dying from a virus that has rendered mankind infertile. Not a single child has been born in 25 years. Governments are powerless puppets for the world's biggest corporation Biocorp. They keep promising a cure that never comes. A pair of scientists travel back to 2017 in order to change the events of their past and prevent the virus from ever existing.

Sezonul 1
2018 | 8 de episoade
Sezonul 1 al filmului serial Dystopia a fost difuzat în premieră pe data de 1 Octombrie 2018.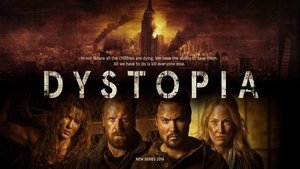 Rating TMDb 6,2 98 voturi
prima apariție
Oct. 01, 2018
Ultima apariție
Oct. 01, 2018