The Messengers – Mesagerii (2015), serial online subtitrat in Romana
Sezoane tv și episoade tv
Rezumat
The Messengers – Mesagerii (Serial TV 2015- ), serial online subtitrat in Romana
Când un obiect misterios se prăbușește pe Terra, mai mulți oameni aparent fără nicio legătură între ei mor din cauza pulsului energetic emis de obiect. Curând, ei vor reveni la viață pentru a-și da seama că-i așteaptă un destin exemplar: sunt singurii în stare să împiedice apocalipsa.
In the New Mexico desert, scientist, Vera Ivanov (Shantel VanSanten) watches in as a mysterious object falls to Earth. It explodes, and sends out a shockwave which briefly stops her heart. But Vera isn't the only one affected: she's instantly connected to 4 others, all of whom had also collapsed, only to come back to life hours later. A mysterious figure – known only as "the man" (Diogo Morgado) comes and offers Vera the chance to be reunited with her kidnapped son, if she helps him with one complicated task. Now, this group might be the only hope for preventing the impending end of civilisation… or causing it.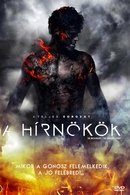 Sezonul 1
2015 | 13 de episoade
Sezonul 1 al filmului serial Mesagerii a fost difuzat în premieră pe data de 17 Aprilie 2015.
Titlul original
The Messengers
Rating TMDb 6.3 48 voturi
prima apariție
Apr. 17, 2015
Ultima apariție
Jul. 24, 2015