Wayne (2019), serial online subtitrat
Sezoane tv și episoade tv
Rezumat
Wayne (Serial TV 2019- ), serial online subtitrat în limba Română
Wayne, un copil murdar de 16 ani, cu o inima de aur, se stabileste pe o dirtbike de la Boston la Florida, cu noul sau prieten Del, pentru a-si returna rasfatul "Trans-Am", care a fost furat de la tatal sau inainte de a muri . O comedie de acțiune, este John Wick prin intermediul lui John Hughes.
In this gritty and sometimes bloody tale, sixteen year-old Wayne sets out on a dirt bike with his new crush Del to take back the 1978 Pontiac Trans Am that was stolen from his father before he died. It is Wayne and Del against the world.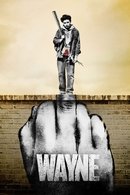 Sezonul 1
2019 | 10 episoade
Sezonul 1 al filmului serial Wayne a fost difuzat în premieră pe data de 16 Ianuarie 2019.
Rating TMDb 7.8 18 voturi
prima apariție
Jan. 16, 2019
Ultima apariție
Jan. 16, 2019